IATF 16949:2016 CERTIFIED
Manufacturing of Sheet Metal Press Components, Tubular Components, Chassis Frame (2W&3W), Welded Assemblies, with In-House Painting & Powder Coating Facility
EXHAUST SYSTEM ASSEMBLY & COMPONENTS
Exhaust Muffler Fabricated Tubing Manifold Catalytic Converter Assembly H-Pipe Assembly X-Pipe Assembly Y-Pipe Assembly Exhaust Pipe Extension Pipe Flex Pipe Exhaust Hangers Air Injection Tubes Catalytic Converter Canning Clamps TailPipe Connecting Pipe Gaskets Mounting Brackets Heat Shield
We serve to reduce exhaust gas temperature and noise, as well as remove toxic substances, but it also has a significant impact on vehicle power performance.
Your vehicle's exhaust system removes toxic gases produced during the combustion process, which is important for fuel efficiency, the environment, and your safety. The exhaust system not only prevents harmful chemicals from entering the cabin, such as carbon monoxide, nitrogen oxides, and hydrocarbons, but it also "cleans up" the gases before they are discharged into the environment.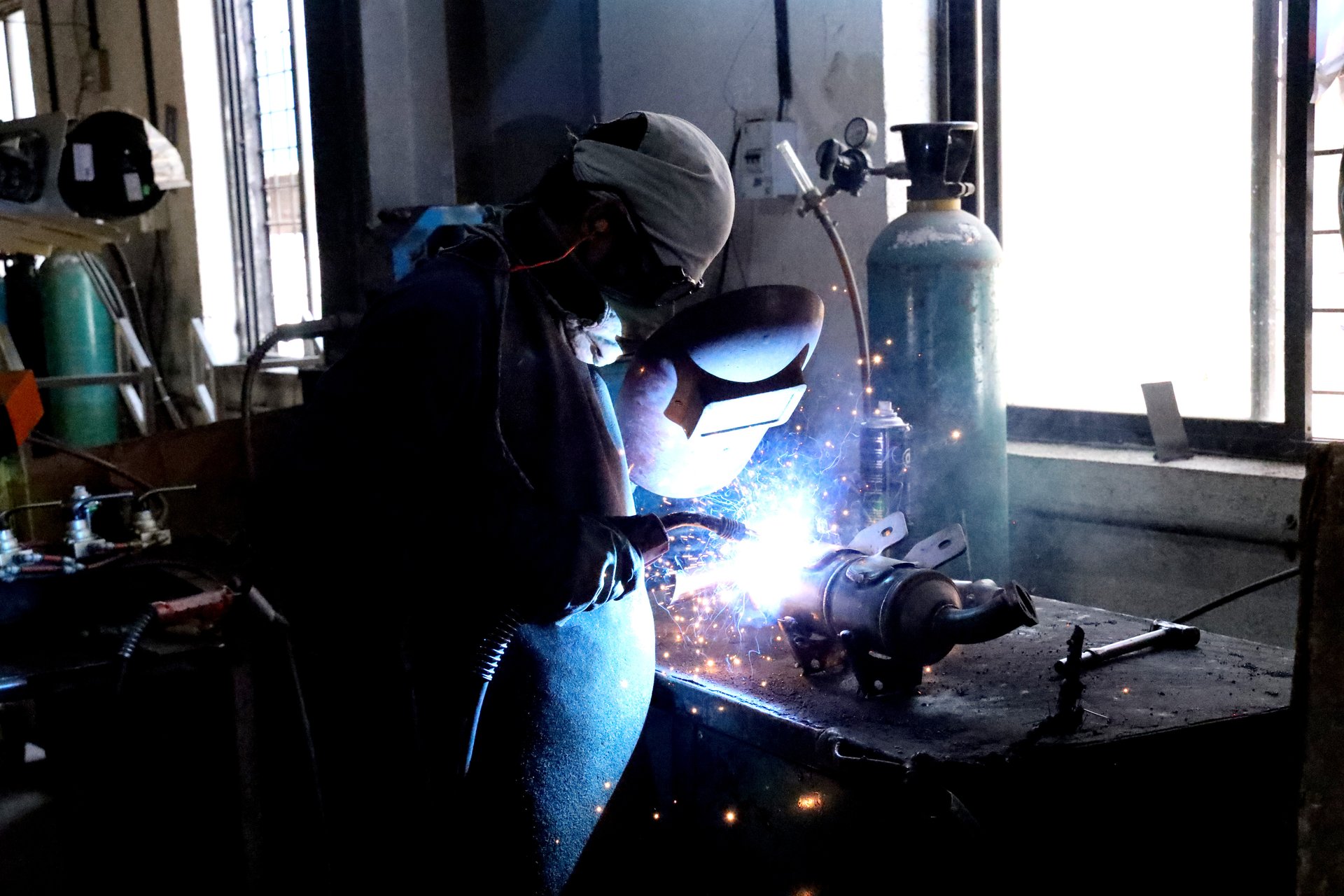 Looking for a New Product Development in Sheet Metal & Tube?
We are well-known for producing quick prototypes of sheet metal and tube components. We specialise in a variety of production processes, allowing us to swiftly bring your concepts to reality. We are happy to work building prototypes & manufacturing components with world-class organisations such as Greaves Cotton Limited, Lombardini by Kohler, Tata Auto Components, Continental Engines, Piaggio Vehicles, Mahindra & Mahindra, Baxy Mobility, Future Pump, Atul Auto, and Mubea. Our mission is to surpass our clients expectations and assist them in achieving market success.
Customer Satisfaction through Quality, Delivery and Cost-Effective Service.
By Delivering long-term support to our customers, we hope to play a key role in the growth of mobility with our creative manufacturing solutions.
ABOUT US
Our Managing Director Mr Bharat Pandey, along with members of his family and a handful of employees, founded SAGAR AUTO PARTS PRIVATE LIMITED (PUNE) in 1995. SAGAR AUTO PARTS PRIVATE LIMITED, with over 25 years of manufacturing experience, has consistently contributed to the creation of assistance for OEMs during the adoption of
Bharat Stage Emission Standards(BSES) BS1, BS2, BS3, BS4, and BS6.
Sagar Auto Parts began as an exhaust muffler manufacturer and has since expanded its component offering by accepting and meeting the needs of its customers. Sagar Auto Parts has been actively involved in the manufacturing of various Auto Components like
Exhaust Systems Assembly, Catalytic Converter Assembly, Catalytic Converter Canning, Exhaust Support Hanger, Engine Components, Mounting Brackets, Seat Frames, Chassis Assembly, Handlebar, Anti Roll Bar, and many more similar Sheet Metal and Pipe/Tube/Rod Components
.
We've always enjoyed creating new components in response to consumer requests. Our team at SAGAR AUTO PARTS is made up of seasoned professionals that are dedicated to the company's success. The Quality control in our unit is supported by qualified and experienced engineers and thereby we have been able to achieve the strict quality requirement of our clientele without any concerns. We meet customer expectations by manufacturing fine products and providing excellent services in a timely manner.
We believe in creating high-quality components that are meant to perform. We have established a reputation as a highly regarded supplier among domestic automobile manufacturers by meeting conflicting demands for environmental performance, such as noise reduction, exhaust gas purification, and engine power performance. Considering increased environmental concerns, we have manufactured numerous components in recent years by overcoming a number of problems, such as weight reduction, lifespan extension, and reaction to recycling of parts.
QUADRICYCLES & CARGO BIKE
CONSTRUCTION EQUIPMENT VEHICLE
Strict in-house quality control ensures that our parts are as per the customer's requirement.
WE ARE INVOLVED IN THE DEVELOPMENT OF TOOLING , FIXTURES & GAUGES AS REQUIRED FOR PROTOTYPE OR HIGH VOLUME MANUFACTURING
WE OFFER PROTOTYPE DEVELOPMENT OF METAL COMPONENTS BY 3D PRINTING THROUGH OUR SUPPLIER NETWORK FOR SHAPES THAT ARE COMPLEX & DETAILED, REQUIRED ON A TIGHT TIMELINE.